Annual Report to the Community
March 15, 2023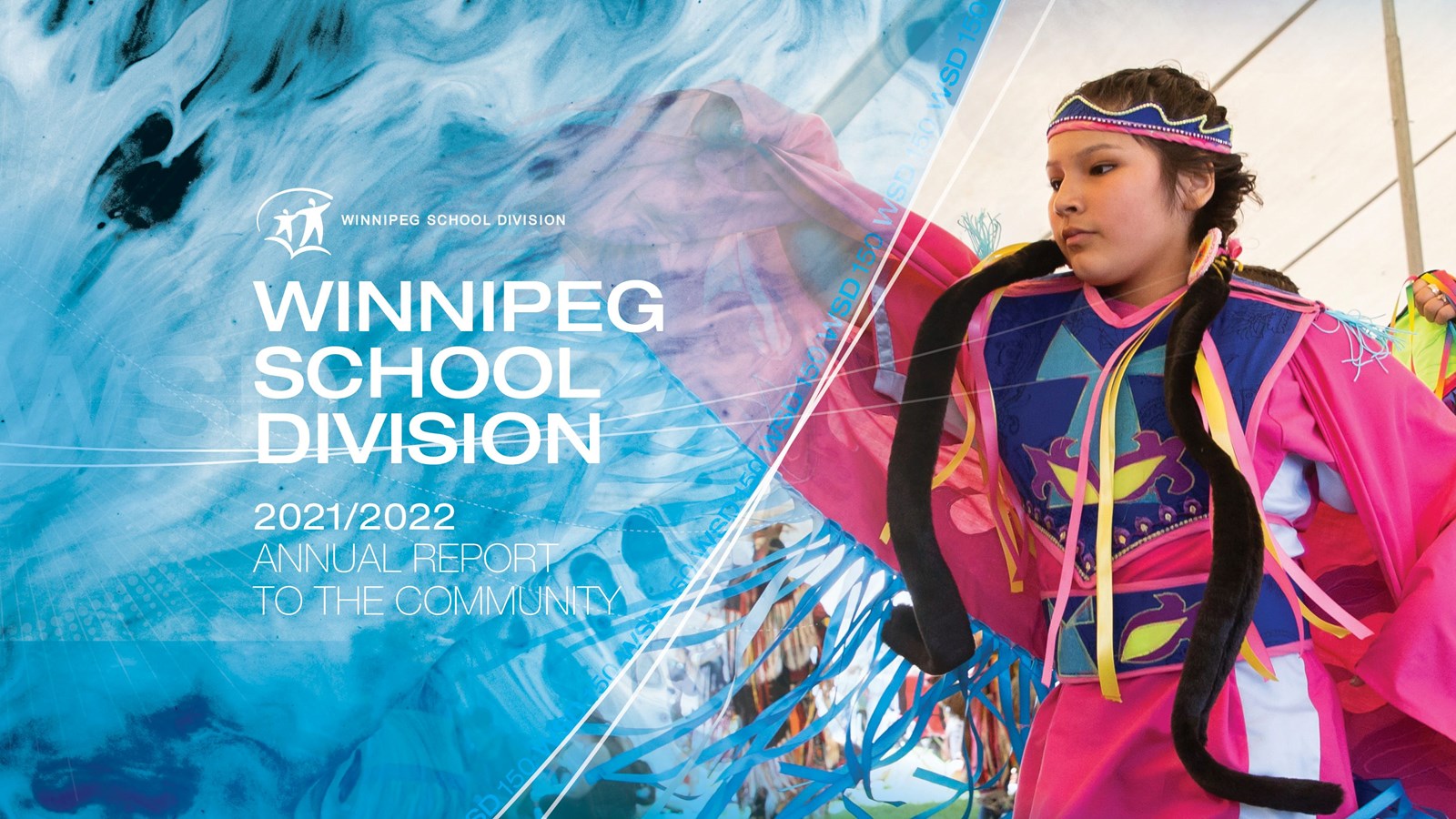 Annual Report highlights WSD priorities, initiatives, revenues and expenditures
Winnipeg School Division publishes its annual report in the fall of each year. This report to the community highlights the division's priorities, district priorities and initiatives, as well as showing revenues and expenditures.
Thank you for your interest in public education.
Annual Report to the Community 2021-2022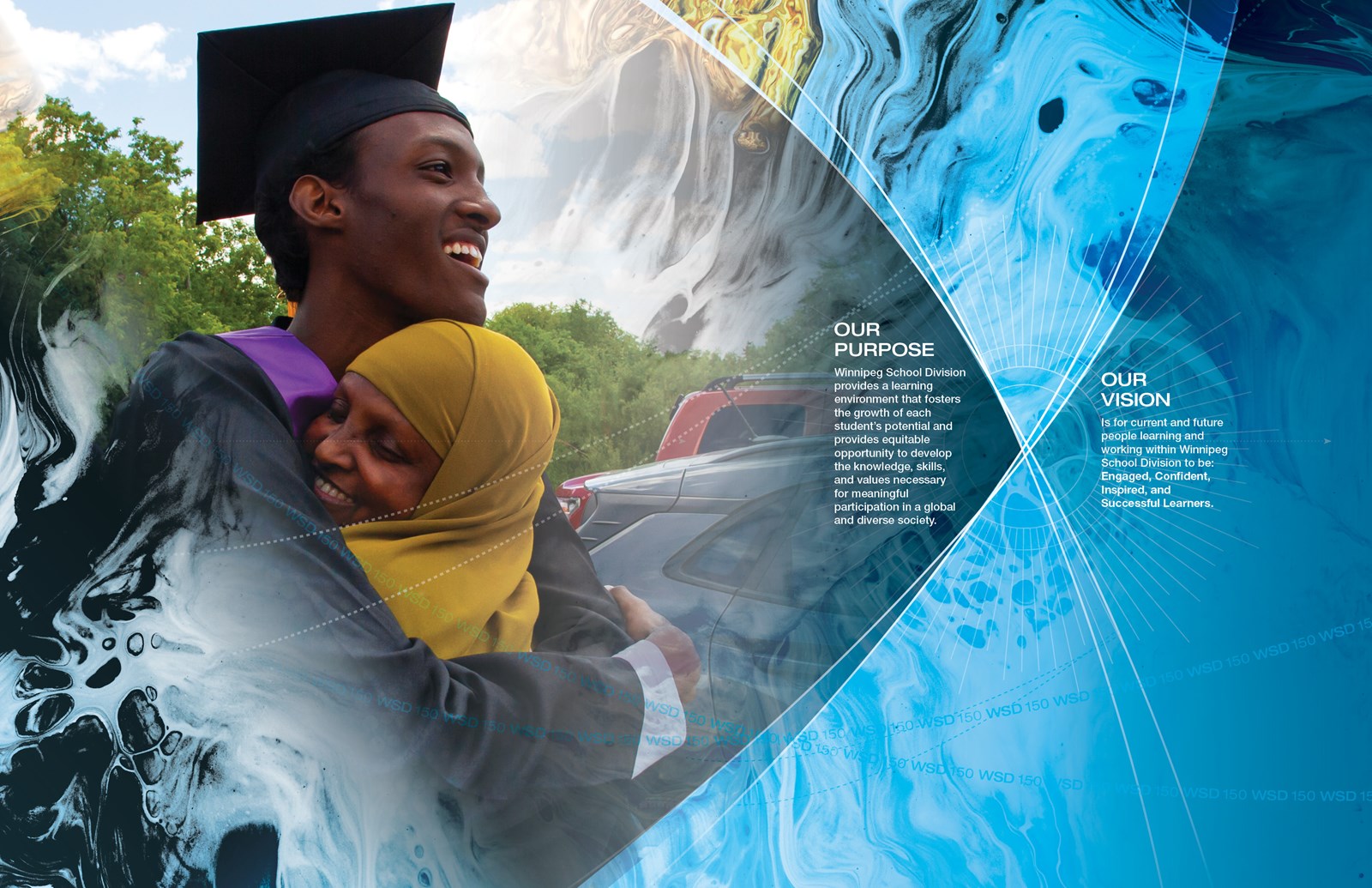 Message from the Chair
I'm pleased to acknowledge that Winnipeg School Division and its 79 schools are located on Treaty One Territory and traditional territory of the Anishinaabeg, Cree, Oji-Cree, Dakota and Dene Peoples, and on the Homeland of the Red River Métis.
As our students and staff returned to school in September 2021, we continued to face concerns about the impacts of the COVID pandemic and dealing with the fourth wave of the virus. It was a daunting time but one, I'm proud to say, that our educators, support staff and students did their best to work through. Over the school year, we worked collaboratively with the WSD Senior Management Team, to keep our community healthy.
Our Board of Trustees continued to govern the school division, meeting through virtual platforms to ensure regular contact and oversight of divisional issues. The year marked the 150th anniversary of Winnipeg School Division, and we celebrated that landmark throughout the community.
In September, 2021, I had the pleasure of representing the Board of Trustees at the official opening of Winnipeg School Division's newest school, École Waterford Springs School. The new Nursery to Grade 8 school is located on the southeast corner of Jefferson and King Edward.
Also, during this school year, I was very pleased to be part of a unanimous vote by the Board of Trustees to rename Cecil Rhodes School as Keewatin Prairie Community School. Keewatin Prairie Community School identifies with the school's geographical location while also honouring the Cree and Ojibwe languages. Keewatin means "the land of the northwest wind".
An important function of the Board of Trustees is to establish a balanced budget for the division for the following year. Achieving this has become more and more difficult, as we face unwarranted limitations the current provincial government has placed on school divisions' ability to raise revenue, which continues to put programs and services in jeopardy. As you will see in the Financial Report, we had to rely on one-time provincial funding, along with accessing the WSD accumulated surplus funds, in order to balance the annual budget. This is not sustainable and at the time of writing this message, the province has not yet released its plans for financing Kindergarten to Grade 12 education going forward.
In closing, the WSD Board of Trustees is pleased to work in partnership with employees at every level of the organization to achieve positive results for students, staff and the community. We thank our many community partners for your continued support throughout the year, including WSD Children's Heritage Fund, The Winnipeg Foundation, Harvest Manitoba, Children's Variety, Indspire, Southern Chiefs Organization and many more.
Thank you.
Betty Edel
Chair, Winnipeg School Division Board of Trustees 2021/2022
Message from the Chief Superintendent and CEO
Early in the 2021/2022 school year, on October 29, Winnipeg School Division launched its 150-year anniversary with a kick off celebration, viewed by students and staff across the division, via remote video. Throughout the year our school community found ways to celebrate this special year, including planting of 150 trees across WSD by various schools, schools submitted historical facts and photos for the hardcover commemorative book Winnipeg School Division: Celebrating One Hundred Fifty Years, students and staff at each school created colourful banners that were displayed on major Winnipeg thoroughfares during the year and student-created videos documenting their schools and more.
Amidst the celebration, there was important work happening in our schools and offices. We continued to contend with and adapt to restrictions caused by the ongoing COVID-19 pandemic. At the outset of the school year, we developed an extensive program to verify staff vaccination status and establishing a testing site for non-vaccinated staff. Our division implemented a mandatory mask usage policy for all students, staff and visitors in our buildings. While our schools were able to remain open to in-person classes, we also experienced a number of classroom closures due to high infection rates. A longer than usual break from in-person classes during the Winter break allowed for some easing of the number of positive cases, and for the most part, the second half of the school year returned to a more normal experience.
Based on our annual participation in the "Our School" survey, one area where students have been affected by the pandemic is in their feeling of belonging at school. Being part of an inclusive and diverse community is an important part of a child's development, and it's an area that we will continue to work on at all levels of the division to help improve our students' sense of belonging throughout their school career.
While fiscal austerity measures continue to restrict our Board of Trustees ability to put forth a budget with new or innovate programming, it is the impact on our students that is the greatest concern. Our focus in the coming year will continue to include mental health and learning recovery, on top of our commitment to provide a learning environment that fosters the growth of each student's potential.
Thank you to the teachers, support staff, families and students who make Winnipeg School Division the diverse and inspirational community it has become.
Pauline Clarke
Chief Superintendent and CEO
Winnipeg School Division
150 Years of Learning
WSD reached a major milestone in the 2021-22 school year: 150 years of learning and growing with Winnipeg.
In 1871, after the province was formed, the new Manitoba Legislature passed a School Act which divided the province into 24 school districts, 12 Protestant and 12 Roman Catholic, each of them also being an electoral district. Winnipeg became Winnipeg Protestant School District Number 10 and then Winnipeg School Division Number 1 in 1875. The system of numbering school districts provided a chronological and geographic record of how education spread in Manitoba.
The community rented a log shanty between Henry Avenue and Maple Street (now Higgins Avenue) and on October 30, 1871, opened Winnipeg's first public school. On that first historic day there were 20 children, out of a possible 35, who attended their new school. Today, WSD has 79 schools, over 29,000 students and over 4,500 full and part-time employees.
With students still attending classes virtually due to the Covid-19 pandemic, WSD live-streamed an official 150th celebration on Oct. 29. The virtual stream was broadcast from Tec Voc High School with radio personality Ace Burpee serving as emcee.
Guests at the socially-distanced event included Trustee Edel, WSD Chief Superintendent and CEO Pauline Clarke, former WSD Board Chair and Trustee Anita Neville, Trustee Jamie Dumont and WSD Acting Director Joyce Wong.
WSD students and staff took part in a wide variety of activities to mark the WSD's 150th year, including:
A 150 Banner Project – each of WSD's 79 schools created a colourful banner representative of their students and school community; the banners were hung in Winnipeg's Downtown, Corydon and West End neighbourhoods.
The release of a commemorative book, Winnipeg School Division: Celebrating 150 Years 1871-2021.
150 students from nine WSD schools collaborated with the Winnipeg Art Gallery to celebrate 86 years of partnership. Students were given a virtual tour of the new WAG-Qaumajuq Inuit artwork museum and took part in a visual art workshop on Inuit stencil printing. The students then collaborated with Inuit sculptor Goota Ashoona to create artwork for a Qaumajuq exhibit celebrating Nuliajuk, the Inuit creator of animals.
Schools Mark Centennials
With Winnipeg School Division reaching its 150th anniversary in the 2020-21 school year, it is not surprising that several schools reached their centennials.
Faraday, Isaac Newton and Wolseley Schools all had special events to mark their 100th anniversaries.
Isaac Newton had a small, socially-distanced ceremony that included the planting of several new trees. After receiving a $3,700 grant from Tree Canada, the school purchased six trees, including sugar maple and triumph elm, as well as six hedge cotoneasters. The trees were planted on the school's east side after its original tree canopy was lost due to disease.
Both Faraday and Wolseley schools were able to have public events to mark their centennials.
Faraday's front grounds on Parr Street served as the stage for the school's 100th anniversary celebration; crowds lined the boulevard and front sidewalk to watch students sing and take part in a whole-school dance routine. Inside the school, alumni were able to look at Faraday memorabilia and historical displays.
Wolseley held its centennial event amidst the sunshine and trees that have become the community's hallmark. Students sang, danced and did an Indigenous hoop dancing demonstration for the crowd of parents and community members. Visitors also looked at historical displays and vintage Wolseley School memorabilia indoors.
Both Wolseley and Faraday unveiled mosaic sculptures to mark their respective anniversaries; the mosaics were mounted on the schools' exteriors.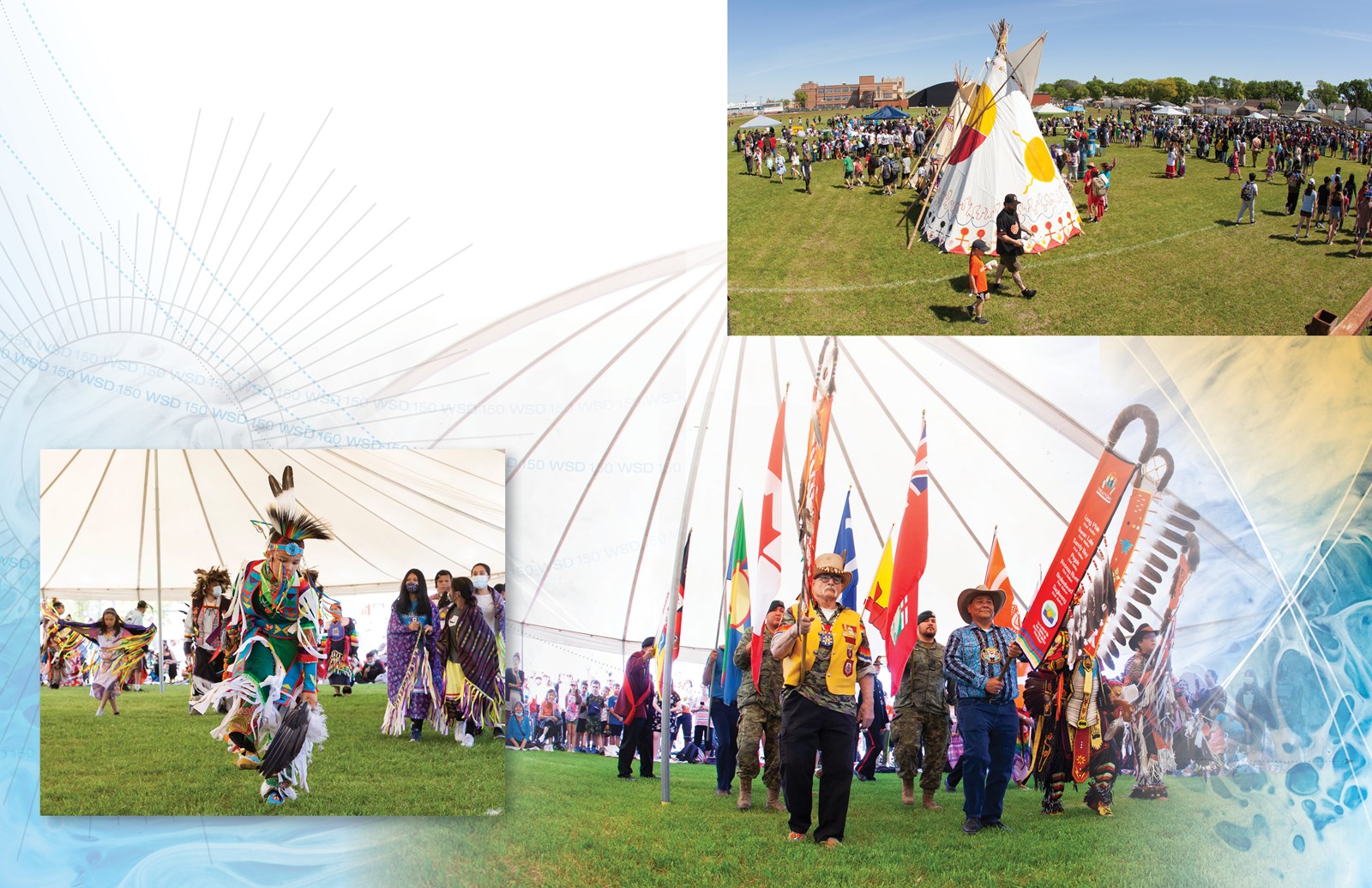 WSD Pow Wow
After a two-year hiatus due to the Covid-19 pandemic, WSD was able to once again hold its annual Celebration Pow Wow on June 9, 2022.
Over 5,000 people attended the third annual event, with approximately 570 teachers supporting over 4,000 students; the pow wow was held on the expanses of the Tec Voc High School field.
The event offered students, staff and community members the opportunity to take part in an authentic pow wow. Following the Grand Entry, emcee Michael Esquash Sr. explained the various cultural protocols to spectators while students proudly participated in dances such as Fancy, Grass, Jingle, Traditional and other styles, often dressed in pow wow regalia created either by themselves, family members or school staff. Spectators were also invited to take part in the dances.
Along with the main tent, there were also two large learning tents where Elders gave cultural teachings to over 2,000 students. Programming was also offered at the neighbouring Tec Voc High School building and the Prince Charles Education Resource Centre, including the Reconciliation and Me project, a pair of Giant Indigenous Floor Maps in the Audrey Jones Fieldhouse gymnasium, Métis dancing in the Tec Voc Theatre and an Indigenous planetarium offering Sky Teachings.
Another major part of the event was honouring Grade 12 graduates, students in the Cree and Ojibwe Bilingual Language programs, and graduates from the Build From Within program. Students also enjoyed a celebration feast hosted by Tec Voc and R.B. Russell Vocational High School students and staff.
The organizing committee has already begun work on next year's event; it will be held on June 1, 2023 at the Tec Voc High School field.
2021-2022 Buildings Highlights
École Waterford Springs School officially opens
In September 2021, Winnipeg's newest school, École Waterford Springs School, officially opened to serve the growing communities of Waterford Green, Castlebury Meadows, Castlebury Springs, and Northwest Farms.
The school, which cost $21.9 million to build, is 76,400 square feet and able to accommodate up to 800 students. It is organized into two distinct blocks connected by a two-story Student Commons space that forms the heart of the school and defines the main entrance.
The building houses students from Nursery to Grade 8 English and Kindergarten to Grade 8 French Immersion, as well as the Bumper Crop Early Learning Centre Inc. with capacity for up to 74 infants, toddlers and preschoolers. The daycare also offers a Before and After Program in the school for up to 30 students.
The school has incorporated the Seven Teachings of Indigenous Peoples and prominently displays these values at the entrance wall of the school.
Expansion at Tec Voc High School
Tec Voc High School is entering a new era with the start of a major expansion and renovation at the school for its Aviation and Aerospace Technologies, Machining and Welding Programs.
In Spring 2022, construction started on a new two-storey expansion that will be situated on the school's west side. The 5,800 sq. foot expansion will accommodate a new welding shop and a composites classroom and lab; the project also includes a 5,000 sq. foot renovation of the existing welding and machine shop, along with three classrooms. The existing welding shop will be converted into an Aerospace Manufacturing Centre.
The project is expected to take approximately 12 months to complete.
Aerospace Teacher Drew Tapley said the expanded space would give programs more room to accommodate cutting edge technology and equipment.
For more information on Tec Voc's Aviation and Aerospace Technologies, Machining and Welding Programs, visit www.winnipegsd.ca/TechnicalVocational.
R.B. Russell Horticultural Expansion
The 2021-22 school year saw construction begin on a major expansion at R.B. Russell Vocational High School. This redevelopment of the school's Horticulture and Sustainable Education Program includes a new 2,500 sq. ft. architectural grade teaching greenhouse, and the development of a header house and a landscape training area inside existing school space.
New Name for Keewatin Prairie Community School
This past spring, the Winnipeg School Division's Board of Trustees approved the name Keewatin Prairie Community School to replace the formerly named Cecil Rhodes School. The name was effective September 1, 2022 at which time signage at the school will also be updated.
Keewatin Prairie is a Nursery to Grade 9 school located in the Weston neighbourhood on Elgin Avenue with an enrolment of approximately 520 students. The school community reflects the cultural diversity of Winnipeg and provides a positive school climate for children to grow and learn academically, socially and emotionally. Staff, students and community value inclusion and respect for all. The school and community work together to build strong community spirit, foster a positive and safe school climate and promote attitudes and skills that develop responsible social behaviour and global citizenship.
Keewatin Prairie Community School identifies with the school's geographical location while also honouring the Cree and Ojibwe languages. Keewatin means "the land of the northwest wind". Both Keewatin and Prairie were a popular recommendation among survey responses.
Students at the school, who are proud to be residents of the prairies, also acknowledge that the word prairie represents growth and a connection to nature and Indigenous ways. Including the word "Community" in the school's name was also a key recommendation from both staff and students.
Classroom Sound Systems Enhance Learning for All
A WSD junior high school is seeing benefits across the student population after miking up teachers in every classroom.
Hugh John Macdonald School invested in sound field FM systems in all of its classrooms this school year.
Sound field FM systems amplify a teacher's voice to provide improved audibility for all students in the classroom. The devices consist of a wireless microphone and speakers, and can connect via Bluetooth to students' hearing aids.
The move has paid off not only for students who are hard-of-hearing, but for students and teachers throughout the school.
Hugh John Macdonald Principal Matthew Adkins was motivated to investigate sound field FM systems after attending a Celebrating Inclusion Conference at École Stanley Knowles School a few years ago; one of the presenters happened to be Ms. Flaman, who discussed the systems and their impacts on student learning.
Several years ago, the Audiology Department conducted a pilot sound field project, where systems were put in all Grade 1 classrooms in the Inner City. After seeing positive outcomes through that project, the department explored the possibility of having a system in every elementary classroom.
A second WSD school, John M. King, has also committed to a similar schoolwide initiative.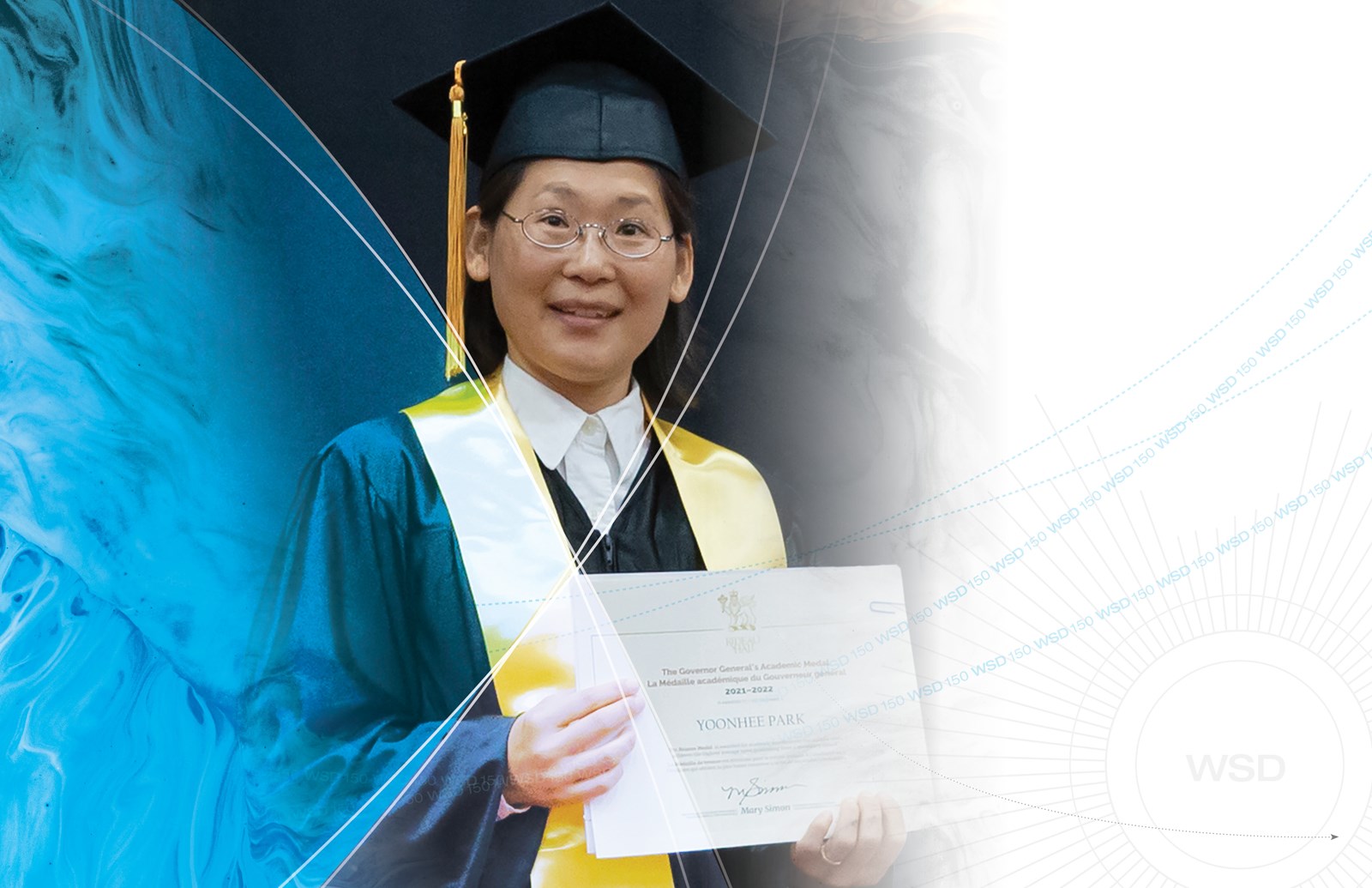 Class of 2022 Academic Award Winners
The Governor General's Medal is presented to the graduate who achieves the highest academic standing at their high school. The WSD School Board Post Secondary Scholarship Awards, which were established in 1972, present $1,000 scholarships to a student at each high school. Both are among the highest honours a student can receive upon their graduation from a WSD high school. Congratulations to the following graduates:
Governor General's Medal Winners
Argyle Alternative High School
Rusel Apa-Ap
Children of the Earth High School
Spencer Valiquette
Collège Churchill High School
Kelly Hems
Collège Churchill High School
Rebecca Villa
Daniel McIntyre Collegiate Institute
Reiley Palma
École secondaire Kelvin High School
Justine Dyker
Elmwood High School
Rizelle Pangilinan
Gordon Bell High School
Olicel Therese Carungay
Grant Park High School
Weldon Alvin Scott
R.B. Russell Vocational High School
Jeremiah George
St. John's High School
Joslen Collantes
École secondaire Sisler High School
Justin Batin
Tec Voc High School
Natasha Winzinowich
Winnipeg Adult Education Centre
Yoonhee Park
WSD Post-Secondary Scholarship Winners
Argyle Alternative High School
Chris Daniels
Children of the Earth High School
Mark Spence
Collège Churchill High School
Divine Amane
Collège Churchill High School
Rebecca Villa
Daniel McIntyre Collegiate Institute
Ellis Martinez
École secondaire Kelvin High School
Hella Straub
Elmwood High School
Kiefer Ricafort
Gordon Bell High School
Olicel Therese Carungay
Grant Park High School
Carlynn Ann Davidson
R.B. Russell Vocational High School
Logan Clarke
St. John's High School
Irenge Kamulete
École secondaire Sisler High School
Justin Batin
Tec Voc High School
Micah Magnaye
Winnipeg Adult Education Centre
Clayton Cook
Facts at a Glance
Total number of students
(as of Sept. 30, 2021) – 29,522
Elementary (N-Grade 8) – 19,709
Secondary (Grade 7-12) – 9,813
Total number of schools – 79
Elementary schools (N-Grade 8) – 65
Secondary schools (Grade 7-12) – 14
Number of graduates
(as of Sept. 30, 2021) – 1,966
Number of nursery students – 1,239
Students in language programs:
French Immersion – 4,521
Hebrew Bilingual – 199
Ukrainian Bilingual – 31
Spanish Bilingual – 86
Cree Bilingual – 44
Ojibwe Bilingual – 90
Students identified as English-as-an-additional language – 4,578
Students transported to school – 1706
Total number of full time staff – 4306
Financial Overview
During the 2021/2022 school year, the Winnipeg School Division Board of Trustees approved a budget for the 2022/2023 school year. The final budget equalled $437,118,200, which includes $13,217,517 in one-time funding and $525,358 from accumulated surplus to offset a budgeted deficit.
Baseline provincial funding decreased by 1.3 percent, or $2,325,538 and property tax levies for education paid to WSD remain frozen at 2020 levels.
Expenses outside of the control of the Board, include salary scale increments, changes in benefit rates, employer rates for employment insurance, Canada pension plan and payroll tax.
The WSD Board of Trustees has achieved a balanced budget for the upcoming (2022/2023) school year though the addition of one-time provincial funding, attrition and program reduction, and accessing WSD accumulated surplus funds.
Instructional
Regular Instruction
All subject areas; language programs; English-as-an-additional language
$233,796,193
Student Support Services
Special Education; clinical services; resources and counseling
$93,042,542
Community education and services (including adult learning centres)
Nursery; adult programs and community use of schools
$8,147,408
Instructional and other support services
Professional development; library services and nutritional program
$8,979,397
Support
Administration
Computer and information services; business and human resources functions; Board and central administration
$10,389,197
Student transportation
Operation of school buses
$7,679,750
Operations and maintenance
Operating and maintaining 78 schools and other facilities
$54,501,376
Fiscal and capital appropriations
Payroll tax; banking charges and capital transfers
$28,287,701
Total 2021/2022 expenditures
$444,823,564
Previous Annual Reports
WSD School Community Reports
Champlain
David Livingstone
Garden Grove
Niji Mahkwa
Tyndall Park
Victoria-Albert
Weston