Soup's on at Tec Voc
March 13, 2023
News Story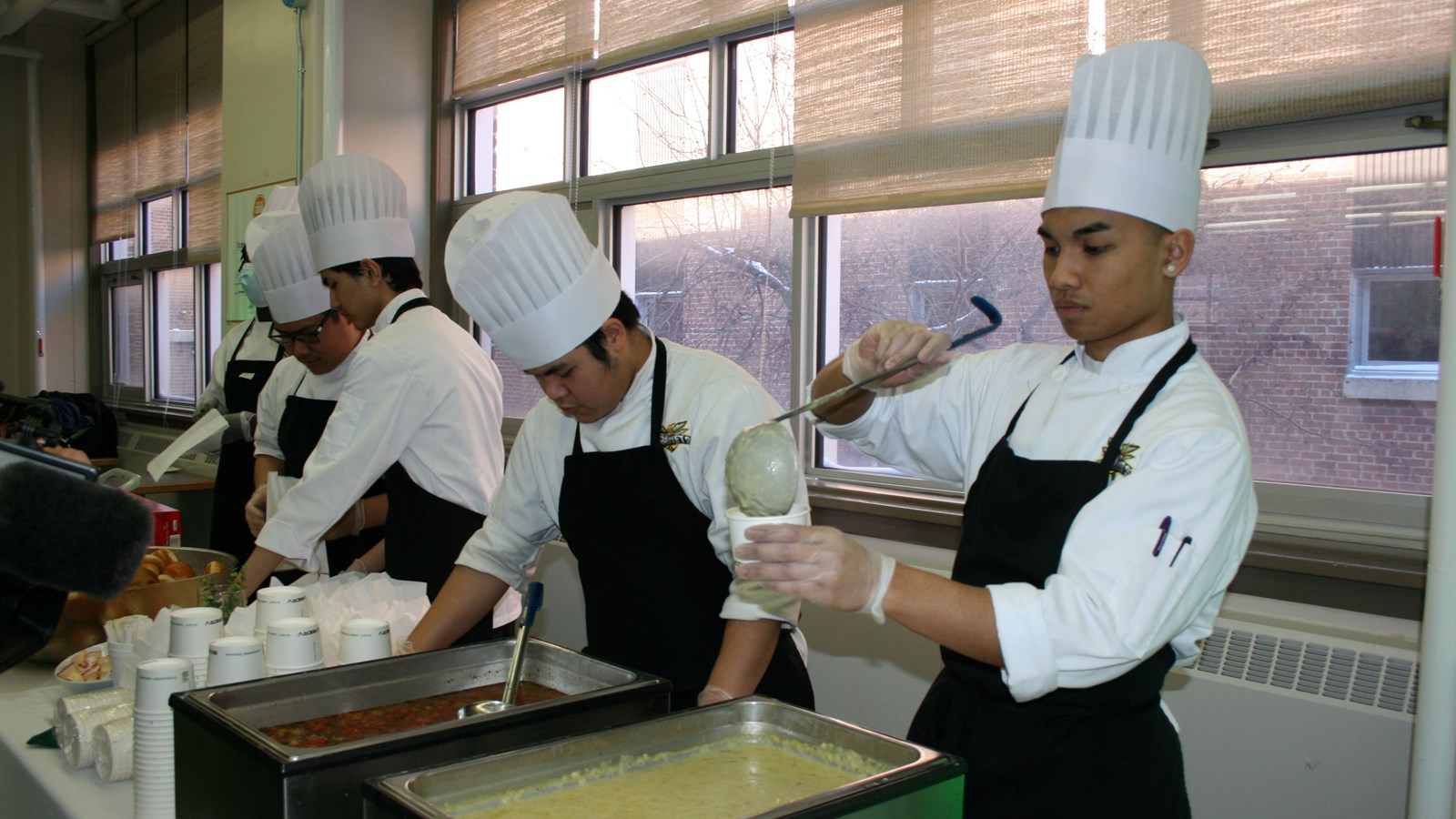 The Child Nutrition Council of Manitoba launched its 11th annual Stone Soup fundraiser on March 13 at Technical Vocational High School.
Formerly a one-day event, Stone Soup Week runs from March 13 to 19. The souped-up fundraiser sees over 40 Manitoba restaurants serving up signature soups, with $1 from every bowl sold going to CNCM. The charitable organization will direct those funds to Manitoba school meal and snack programs.
"The Child Nutrition Council of Manitoba currently supports over 300 school meal and snack programs in Manitoba and that supports 40,000 Kindergarten to Grade 12 students who are accessing these programs daily," said Janelle Wotton, CNCM community dietitian and strategic initiatives manager.
"We hear about the impact those meal programs have on mental health, by providing a welcoming and comforting environment for students. We have also heard that these programs increase students' ability to engage and participate in the classroom and that they reduce absenteeism and reduce behavioural concerns as well."
The Stone Soup fundraiser gets its name from a folk tale in which hungry travelers convince the people of a town to share small amounts of food, resulting in a pot of soup so plentiful it feeds the entire village.
Tec-Voc's breakfast, lunch and snack programs are supported by CNCM grants. Vice-principal Lindsey Munz said those programs are more important than ever in a time of rapidly rising food costs.
"Hungry kids aren't going to perform as well in class," Munz said. "We make sure kids don't go hungry. They can access breakfast in the morning and be ready to go for that first period class."
"With these funds we're able to put together some amazing meals of our students. That also allows our Culinary Arts students to feel good knowing they're supporting their school community. We all come together as a Tec-Voc family to help each other out."
At the Stone Soup launch, Tec-Voc Culinary Arts students served up a Three Sisters soup (corn, squash, beans) and potato and leek soup, along with fresh buns and an ice cream dessert.
Culinary Arts department head Livia Gloux said her students are learning how to get the most bang from their food budget.
"We always make sure we're making good and nutritious meals and that we're also using our product effectively and efficiently. Nothing gets wasted here," Gloux said. "Also, we have a soup freezer so a student going home for the weekend can take a litre of soup home with them. We also started a food pantry where students can access foods to take home, things like potatoes and onions."