Winnipeg School Division Transportation Department Feature
January 17, 2023
News Story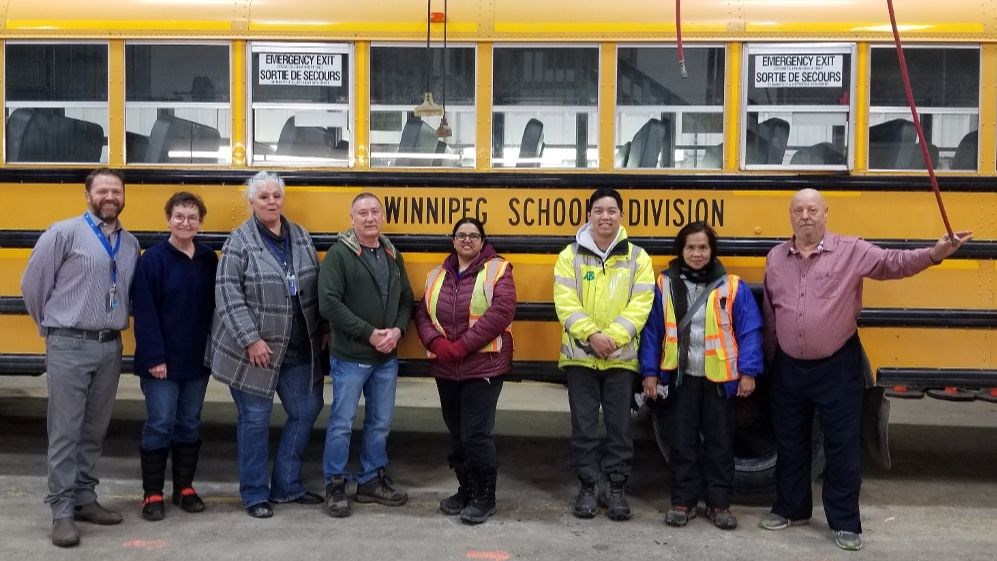 Chris Carlson has been the Winnipeg School Division Transportation Supervisor since March 2022. Coming to this job from a position in the rail industry, he has found the role a challenge but one he enjoys. He's gone from coordinating the transportation of goods to transporting students, definitely a more precious cargo.
"There's been some challenges but I have enjoyed it," he said. "I guess the thing that I would like people to know the most is that we are here for the kids."
He describes the Department's teamwork, the pulling together to get the job done, as one of the great strengths of the Transportation Department. This is especially important as there is presently a driver shortage in the industry.
"It is a systemic problem every school division is facing right now," he said.
To attract interest in the position of Bus Driver the Transportation Department appealed to the public at a job fair earlier this year and was able to recruit 10 applicants. Not all of the vacant positions were filled but he said the situation is much improved.
Bus Transportation is a Highly Coordinated Effort
The Winnipeg School Division Transportation Department, located on Selkirk Avenue, is comprised of over 100 employees in the following positions:
Department Supervisor and Assistant Supervisor
Driver Training and Evaluation Supervisors
School and Regular Bus Drivers
Bus Mechanics (and Assistants)
Clerks – Office and Transportation Scheduling
Building Caretaker
To operate a school bus for Manitoba's public schools, individuals are required to meet all training and testing requirements of both Manitoba Public Insurance (MPI) and Manitoba Education and Early Childhood Learning.
"Our driver trainers accompany our new drivers to teach them all the necessary pre and post trip inspections and familiarize them with the bus," said Mr. Carlson. "They also do some road driving with them to ensure that they're comfortable behind the wheel. It's a big process to ensure the safety of all."
Driver concerns are logged electronically for follow-up whether logistical or mechanical. This tracking system has proven to be an effective coordination addressing needs in the Department.
"For example, if a bus has a burned-out headlight it gets logged in the system and a notification goes right to our mechanics. It gets replaced as soon as possible," said Mr. Carlson.
Transportation Teamwork
Mr. Carlson is proud of his team in the Winnipeg School Division Transportation Department, noting in particular the assistance of Penny Dalheimer, Assistant Transportation Supervisor, for her wealth of knowledge and help in identifying any possible issues or concerns in transporting over 1,700 students a day. He is also part of the appeals process on a committee with Acting Director of Schools Ryan Hughes and Board and Community Liaison Officer Brenda Lapointe.
He is also very involved with the mechanics regarding bus safety, noting "We have 103 busses, and we need to safety them every six months so it's a big process. In some months we could have anywhere between 19 and 20 busses that need to go for a safety so it's a big coordination with our mechanics."
Student Bus Safety
School Bus Ridership is practiced at schools, but the Transportation Department would like all to be aware:
For Drivers
Flashing yellow lights on the school bus mean the bus is getting ready to stop and load or unload. You need to slow down and get ready to stop.
Flashing red lights mean the bus has stopped and children are getting on or off. It is illegal to pass a school bus from either direction once it's stopped and has its lights activated unless there is a physical barrier (such as a median) between your vehicle and the bus.
As soon as the bus driver turns on the flashing red lights, drivers coming from both directions must immediately stop at least five metres from the bus and remain stopped until the lights stop flashing, the STOP arm folds away and the bus begins to move.
Be extremely cautious around school buses and remember young children are nearby and move quickly.
For Parents
Educate your children about bus safety etiquette.
Teach them to stay away from the three danger zones – the front, sides and back of the bus by staying at least three meters away from the school bus.
If children must cross the street, they must never cross behind the school bus, they should seek the driver's permission, take five giant steps past the front of the bus and make sure the driver has seen them before crossing.
Teach them to watch for other traffic before crossing the road.
If children drop something near or under the school bus, they should never attempt to retrieve it without the driver's permission.
Ensure that they get to the bus stop at least five minutes before the school bus arrives.
Teach them to never run after the school bus if they arrive late at the bus stop.
Teach them to take five giant steps away from the road when the school bus is approaching.
Who Can Access Transportation Services
Inclusion Support Services: Students who are supported in a low enrolment program through Inclusion Support Services may be provided with transportation.
Language and Alternative Programs:
Students in Kindergarten to Grade 6 in a language or alternative program, whose residence/daycare is 1.6 kilometres or further from the school.
Nursery students attending one of WSD's three French immersion milieu schools are also bused subject to distance requirements.
Special situations: There are a number of special situations where transportation is provided to accommodate safety considerations or geographic locations.
Requests for Special Education transportation services should be directed to the Inclusion Support Services at 204-774-4525; all other requests for transportation services should be directed to the student's school. All enquiries regarding scheduling and operations should be referred to Winnipeg School Division's transportation department at 204-789-0452 (8:00 am - 4:30 pm).
In lieu of school bus transportation, students may be provided with bus tickets for the following:
Inclusion Support Services low enrolment classrooms/programs - where students can safely utilize transit services and in special circumstances.
Special Circumstances - individual schools may be provided an allocation for bus tickets for students due to special circumstances.
Bus Route Cancellations:
During the year there may be times when inclement weather affects bus transportation and school opening. School bus transportation for all school divisions in the City of Winnipeg is cancelled when the wind chill reaches -45°C by 6:15 a.m. based on the 6:00 a.m. Environment Canada readings at the Forks, Winnipeg. The temperature readings can be found at the Environment Canada website. When bus transportation is cancelled in the morning, it will not resume later in the day even if weather conditions improve. All major Winnipeg media outlets are contacted in the early morning and are asked that they broadcast and/or post bus cancellation information and it is posted on winnipegsd.ca.
Transportation clerks also inform families when busses are cancelled through School Messenger so it is very important for families to provide their child's school with an updated email address and/or cell phone number.
Closed school announcements will be posted on the winnipegsd.ca website and broadcast by major Winnipeg media outlets.