R.B. Russell reconnects with neighbourhood on community nights
September 8, 2022
R.B. Russell Vocational High School is reconnecting with neighbourhood families and residents with weekly community nights.
The Wednesday community evenings offer three different activities: Métis beading workshops, Zumba classes and pick-up basketball in the school's gymnasium.
The evening programs took place in May and June and school administration hopes to offer them again in the fall.
"We have been doing this ever since the province lifted restrictions," said Principal Paul Krowiak. "Our thought was that since we are a community school, we need to offer many opportunities for our community to come into R.B. Russell."
The recreational activities are supported through Manitoba's Community Schools Program and the provincial Building Student Success with Indigenous Parents grant.
Community support worker Lorrie Guilbault, who has been at R.B. Russell for four years, said the evenings have been an opportunity to welcome students' families and community members.
"It's been really nice connecting with the families again, in person," Ms. Guilbault said. "And it's been a pleasure getting to meet all of these different people."
Métis beading
The recreational evenings are the result of several different community partnerships.
The school has partnered with the Louis Riel Institute to offer Métis beading. The popular beading classes have drawn a wide range of people, from teens to seniors.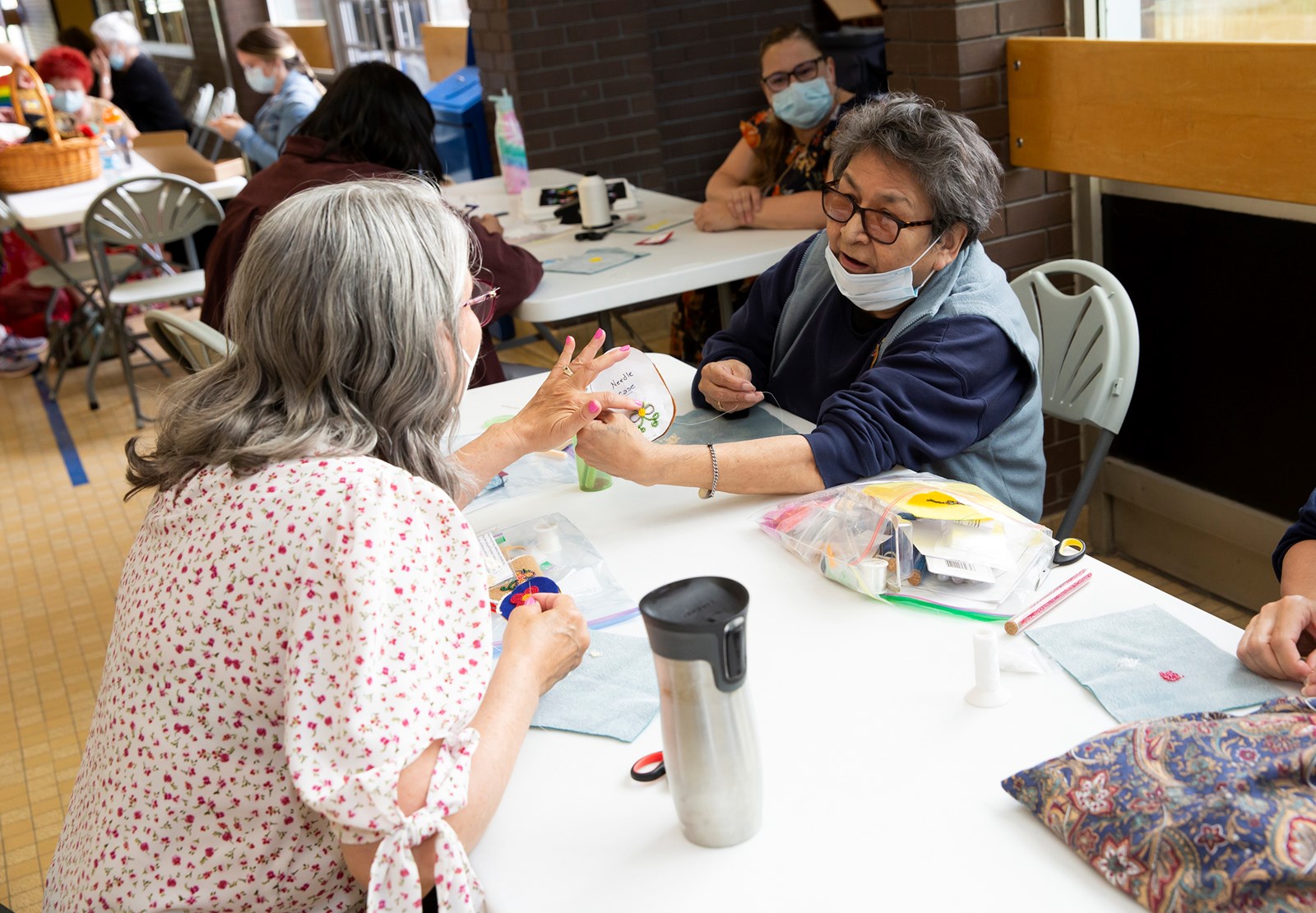 "The skill level ranges from people who have never done any beading before to those who have done beading for many years," Mr. Krowiak said. "They have the opportunity to just come out and learn new skills or practise what they already know."
The sessions are led by Louis Riel Institute representative Teresa Byrne; her partner, Graphic Arts Teacher John Sobkovich, is one of several R.B. Russell staff members helping out with the beading workshops.
Ms. Byrne, who is the Métis History and Culture Coordinator at the Louis Riel Institute, had been offering workshops and lessons at the Manitoba Métis Federation building for years. With the MMF building currently under renovations, the partnership with R.B. Russell has been an excellent way to continue to offer beading to the community.
"We did do Zoom meetings for a while, but I found it wasn't a good fit," Ms. Byrne said. "Our group is pretty special. We have people of all genders and all ages, and all different cultural backgrounds. R.B. Russell is a great school and a big part of this community…and we were welcomed with open arms. It's a really good fit and a great partnership."
The beading sessions have drawn a devoted group of hobbyists.
"Once you get started on a project and learn to bead, a lot of people can't stop," Ms. Byrne said. "It's such a relaxing, great way for people to spend their time, learn something that is a traditional art form and bring it to life."
From the couch to Cumbia
The school has also been offering Zumba lessons in the multipurpose room. The sessions are led by Mel Bagnas, a licensed Zumba instructor with ZPICE Fitness and the head secretary at St. John's High School. Ms. Bagnas had been running sessions at R.B. Russell prior to the pandemic with 10-15 participants a week, then switched to virtual sessions during lockdown.
"It's very uplifting to be able to go back to in-person classes," Ms. Bagnas said. "We were able to do a Zoom class when we were shut down for live classes. 'From the couch to Cumbia' is what I always say to my students but the connection wasn't there as much."
Beginners are always welcome to classes.
"I have new students almost weekly. My basic goal is EVERY BODY is welcome. No judgment in my classes, go on your own pace and just have fun!" Ms. Bagnas said.
"Zumba is a fitness program that includes cardio and Latin-inspired dance. It improves your coordination, works out your whole body, boosts your confidence, gets your aerobics on and builds your anaerobic endurance. I call it fitness in disguise."
Pickup basketball
The pickup basketball sessions in the R.B. Russell gymnasium have also proven to be tremendously popular. The more experienced players form squads for half-court games, while players also have the opportunity to shoot hoops and practise skills on the other half of the gymnasium.
"For the first night of basketball, we had just finalized plans that day and we still had 40 to 50 people turn out that evening," Mr. Krowiak said. "It was a great turnout."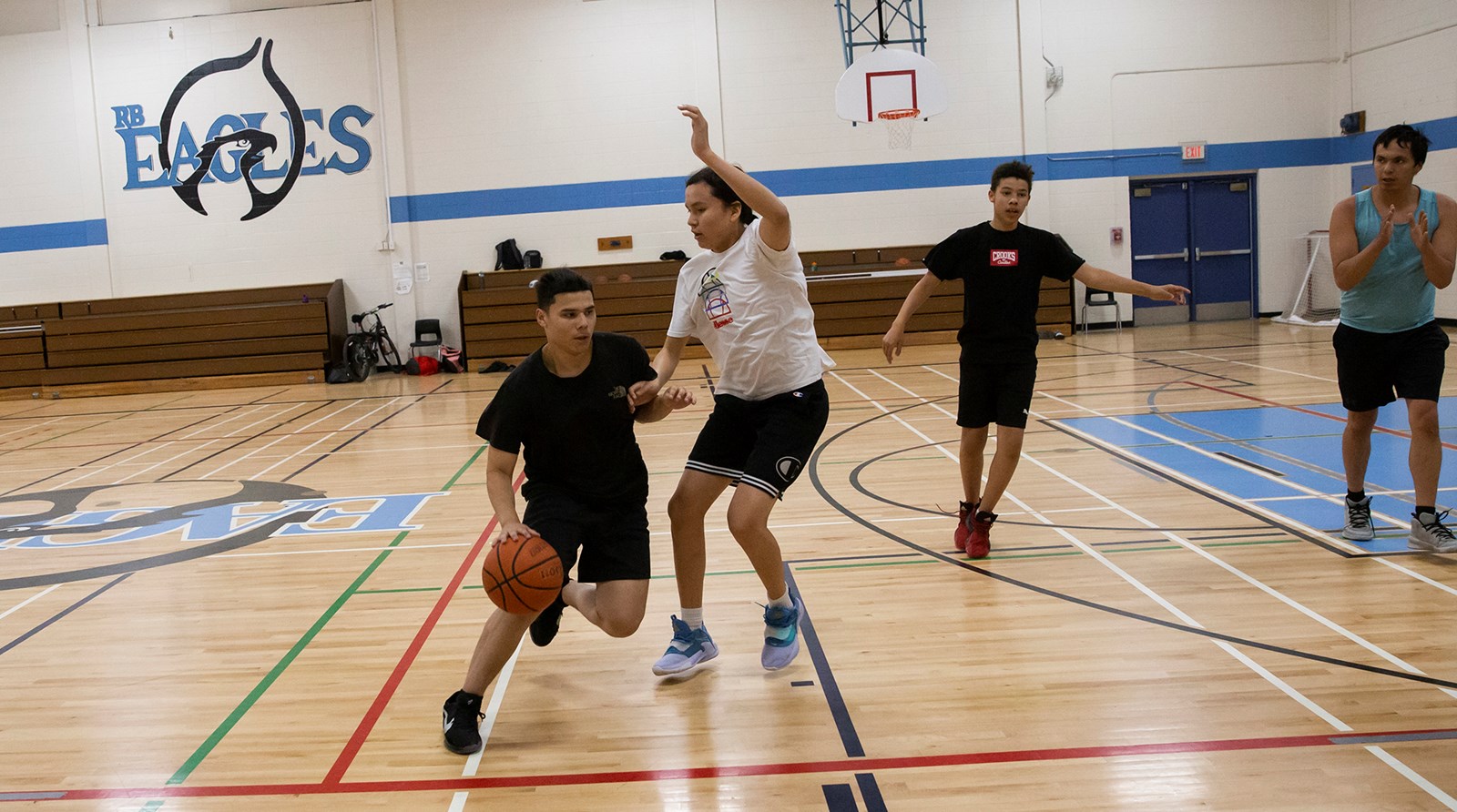 The school has partnered with Lenard Monkman, a member of the IRTC (Interlake Reserves Tribal Council) Chiefs Basketball Club and organizer of the 100 Basketballs charity event.
"For us, it's important to build and grow the game, especially in the Inner City and with the Indigenous community," Mr. Monkman said. "The goal is really just to grow the game and give kids a safe space where they'll be able to play."
The basketball evenings draw a multiculturally diverse group of players. After the extended shutdown of recreational facilities during the pandemic, players were anxious to get back to the game.
"People are hungry to get back into a gym and play against their peers," Mr. Monkman said.
"I'm grateful that R.B. Russell has opened the space for us."
Back in the Fall
The school plans to have the Wednesday community evenings return in the fall, with the possibility of adding some activities including yoga.
"We'll have families come out where one person is interested in Zumba, another in basketball and another in beading," Mr. Krowiak said. "So having all these events on the same night gives everyone an opportunity to participate in something and fit in somewhere. It brings out the whole family in a lot of cases."
On May 6, R.B. Russell had the opportunity to partner with WSD's Healthy Minds Committee to host the 2022 Healthy Minds Free Resource Fair and Speakers' Panel; the event was open to community members who normally came to R.B. Russell for the community night.
"People benefitted from the Healthy Minds Conference and having the opportunity to connect with the community organizations that had displays that evening," Mr. Krowiak said.
The principal said being able to reconnect with the community in-person has provided a morale boost.
"There's just a different vibe in the building and a positive feeling that we're all contributing to good mental health for everyone—our students, staff and community," Mr. Krowiak said.