Variety Children's Dental Outreach Program shows the power of community partnerships
August 26, 2022
With photos and files courtesy of Variety, The Children's Charity of Manitoba
For 17 years, the Variety Children's Dental Outreach Program has been providing preventative education, dental screenings and free treatment to children in need within the Winnipeg School Division.
The program is the result of a long-time partnership between Variety, The Children's Charity of Manitoba, the University of Manitoba's Dr. Gerald Niznick College of Dentistry and the Winnipeg School Division.
"At Winnipeg School Division we are very grateful and value the partnerships that ultimately support the children and families that attend our schools," said Tony Marchione, WSD's Acting Director of Research, Planning and Technology. "Without the generous support of Variety and the U of M's College of Dentistry, none of this important medical care would be possible. Working together with Variety, doctors, dentistry staff, dental students, and supported by school staff, we have made a tremendous difference in the lives of our students."
Open to every child from Kindergarten to Grade 6 at participating schools, the Variety Children's Dental Outreach Program offers free dental care to children whose families may struggle with socioeconomic challenges such as poverty or cultural/linguistic barriers.
"Oral health is an essential aspect to a child's physical and mental well-being, without it, a child's development is at risk," said Variety Chief Executive Officer Jeff Liba. "Providing support for children who have oral health issues also provides them with them equal opportunity for healthy childhood development."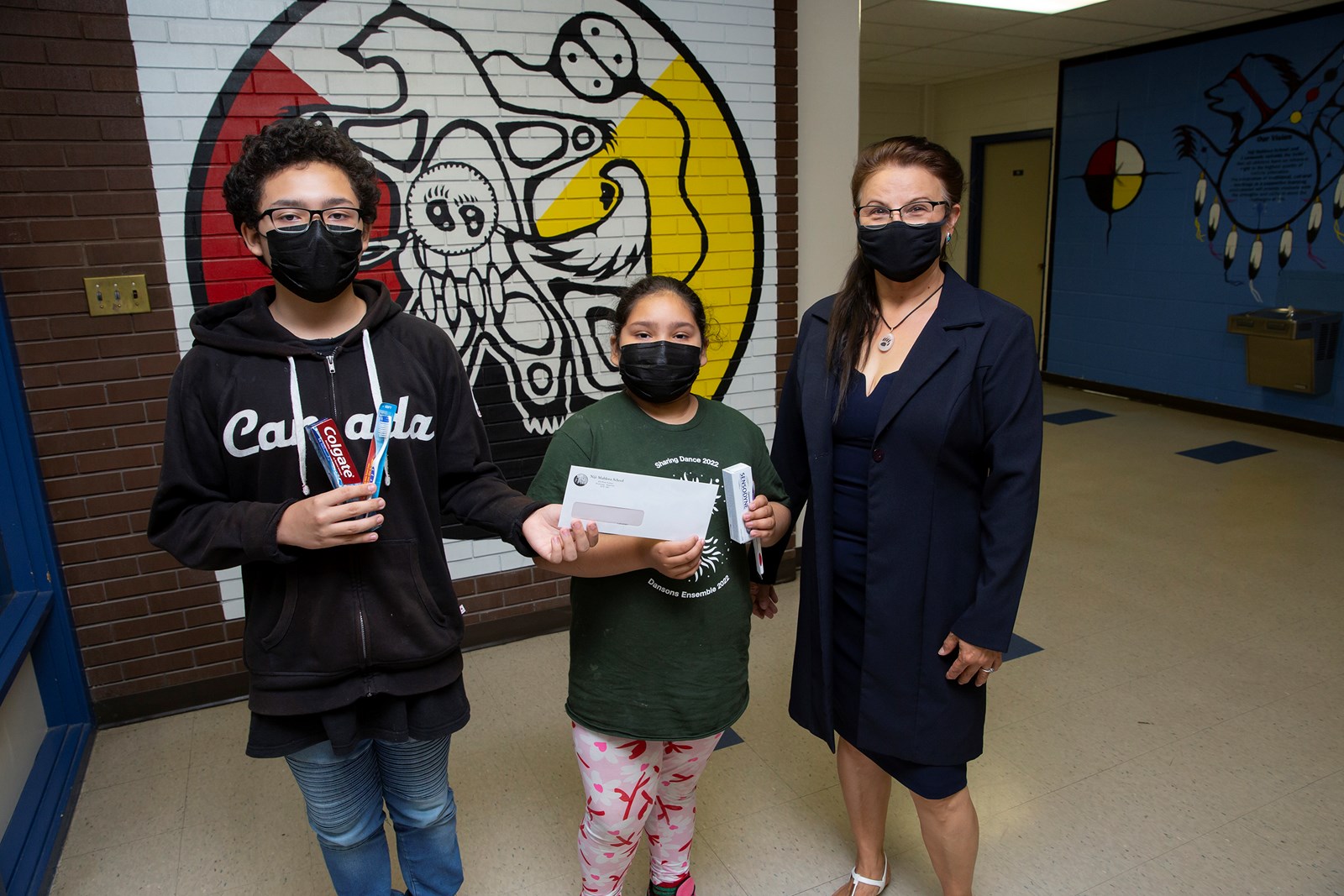 Niji Mahkwa School was honoured for outstanding participation in the 2021-22 edition of the Variety Children's Dental Outreach Program. The award was announced during the program's annual round-up meeting, which was held online in June.
Preventing and treating childhood tooth decay
In its essence, the program strives to prevent and treat childhood tooth decay—the most common pediatric disease in Canada, and one that is continuously rising.
"This program is really unique and special," said Dr. Bradley Klus, Division Head of Pediatric Dentistry at the U of M's College of Dentistry. "We know that 80 per cent of the cavities happen in 25 per cent of the kids. So we are really targeting those students that are in the greatest of need."
Dental treatments can boost a child's self-confidence by improving their smile, or even their ability to eat.
Dr. Klus added that oral health can have an impact on children's overall experiences in the classroom: "Inside the learning environment, kids that have any oral function issues or oral pain have less concentration. They also tend to miss more school than their counterparts."
A welcoming environment
The Variety Children's Dental Outreach Program introduces some children to their first dental visits.
During the school year, staff and students from the U of M's College of Dentistry visit schools to screen students for any potential dental issues. Parents are provided with photographs of their children's teeth and an outline of recommended treatment.
Once parental consent is obtained, students are bused to the U of M to receive the necessary treatment, at no cost to families.
The dentistry students and staff take great care to alleviate any fears children may have and cultivate a welcoming environment; students look forward to future visits.
"Everyone puts forth a great effort to ensure students feel safe and comfortable during their dental visits," said Lord Selkirk School Principal Amie Johnston. "Students are smiling when they return back to school and they can't wait to tell us about their experience. Being a part of this program is creating positive attitudes amongst students and building their awareness of the importance of dental care as part of healthy living."
Continuing to serve students during the pandemic
While the pandemic has impacted the number of students who were able to take part in the program, approximately 176 students from 17 different WSD schools participated in the 2021-22 school year. With additional Covid protocols in place, students were able to experience the same level of care as in past years.
"We not only appreciated the program still being in place during a pandemic to support those students who needed treatment, but that they were treated with such care and safety," said Dana Petrzelka, a former Vice-Principal at Robertson School who is becoming Principal at Lord Roberts School in September 2022. "Also, the ongoing communication from the dental staff was always efficient and accommodating/flexible in making sure scheduling worked best with our school. Students always returned to school with a positive experience and smiles after any treatment."
Mr. Marchione added that the feedback from parents has been tremendously positive:
"The program has been in place for many years, and one constant is the sincere appreciation we hear from parents whose children are able to benefit from the care they receive as they go through their treatments."
How you can help
Variety is able to make the Variety Children's Dental Outreach Programs and other charitable programming possible through donor support.
"Variety, the Children's Charity of Manitoba is a non-profit who relies on the generosity of donors to continue providing support across Manitoba," Mr. Liba said. "Special fund-raisers such as our annual Gold Heart Gala and our Drive Fore The Kids Golf Classic are essential sources of funding which help support thousands of Variety Kids."
Variety's Monthly Giving Program is another way for the community to help support children living with disabilities and economic disadvantage. For as little as $20 per month, every dollar raised will help Variety support children in need with life changing equipment and services.
"The waitlist for Variety's support is growing every day, each donation can help give a child the support they need," Mr. Liba said.
For more information on donating, visit https://varietymanitoba.com/give/ .