Elmwood public art project honours lost generations
November 9, 2022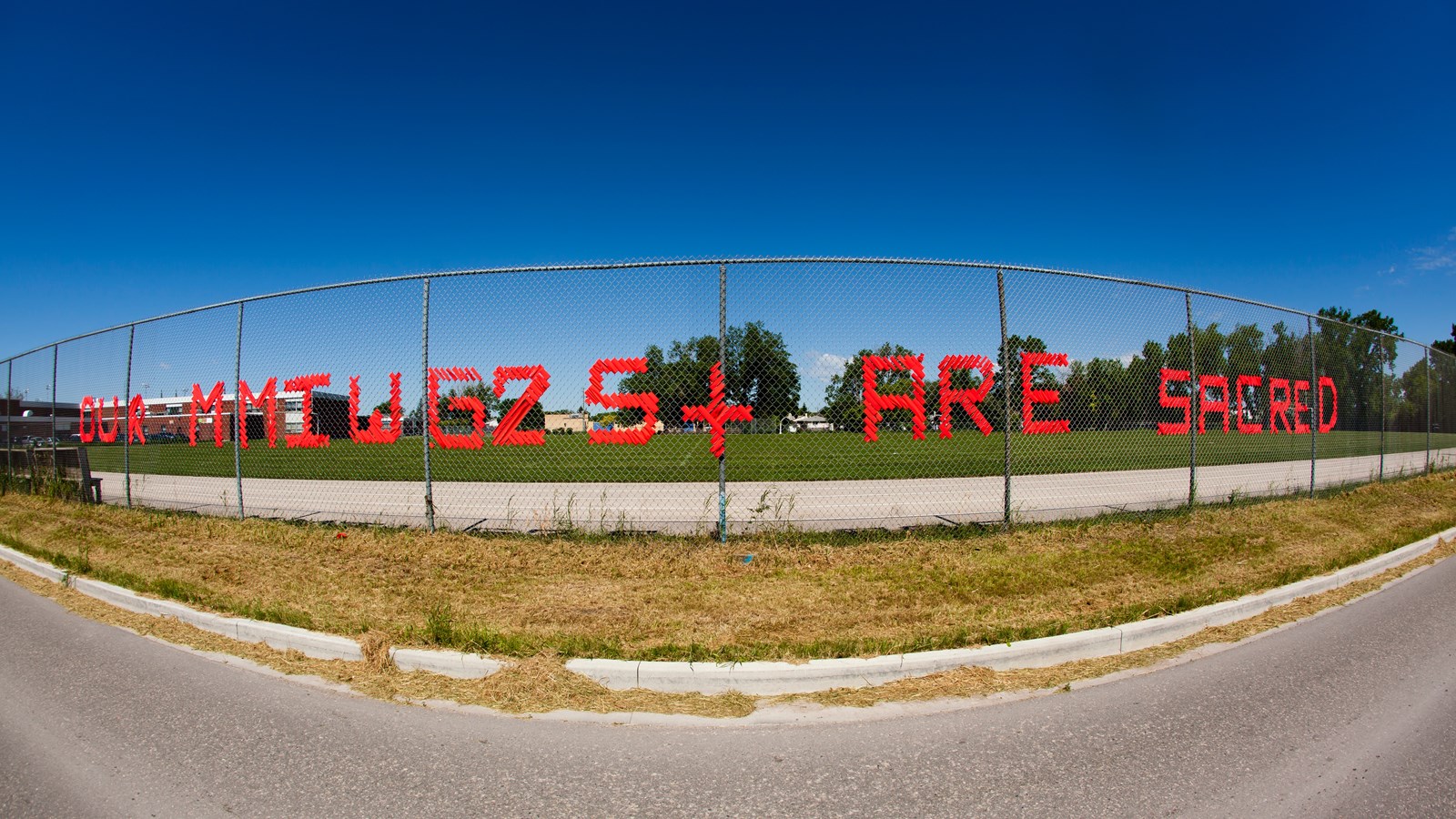 With files from Elmwood High School
A group of students and staff at Elmwood High School have created a public reminder of the missing and murdered Indigenous women, girls and two-spirited-plus people in Canada.
The message "OUR MMIWG2S+ ARE SACRED" is mounted to the school's exterior chain link fence facing Raleigh Street.
The high rates of missing and murdered Indigenous women, girls and 2SLGBTQQIA people is a problem that has existed for decades in Canada and the United States.
It's a complex problem that often stems from systematic racism, stereotypes, lack of support, unsafe environments and predisposed generational trauma.
The visual art piece was inspired by a Grade 12 Global Issues project created by students Denaya Anderson and Brielle Piett.
Our Missing and Murdered Indigenous Women + Girls.pdf
Denaya and Brielle suggested several ways to address the issue: educating youth on the serious issues that Indigenous women and men face; offering community support by spreading awareness and creating safer environments for women, girls and 2S+ people; and sharing the idea that we all have a voice and can start conversations about the issue.
As part of an action plan for their project, the students were specifically looking at ways to spread awareness and honour those who were lost.
Their teacher, Lisete Costa, saw an opportunity to pair the two students up with students in her Grade 12 class on Current Topics in First Nations, Métis and Inuit Studies. The latter group of students were also looking for hands-on group action projects.
"This topic has always been important to me, we've done the Red Dress project year after year," said Ms. Costa.
Every year, Ms. Costa's students create a Red Dress visual arts piece in the tradition of artist Jaime Black's REDress Project. Black's 2010 visual art project, meant to address and bring attention to the MMIWG2S+ issue, has taken on a life of its own over the years.
"Typically what we do is we honour the life of a stolen sister by doing a biography, a timeline of their disappearance and presenting the information on a red dress," Ms. Costa said.
To further discuss the issue, Ms. Costa asked MLA Nahanni Fontaine to come to the school to speak to students on June 13.
"She explained where the issue stems from and why it continues…she was very empowering in talking to our young women and men about the need for action, understanding, respect, safety and an end to violence and discrimination towards IWG2S+," Ms. Costa said.
Honouring the lost
Given the short time frame before the end of the year, students and staff decided on a red-ribbon message on the school's exterior fence.
Students and staff only had a week to cut ribbons and mount the sign on Raleigh Street; the Elmwood math department was consulted to help with the design and layout of the large visual art piece.
"We went to our math department for some help and to give their feedback, so it was a nice collaboration between the different departments," Ms. Costa said. "Our math teacher, Brooke Pisa and three of her Grade 9 students took it upon themselves to go out to the fence and create a blueprint for us, which they pixelated on graph paper."
Ms. Costa added that Denaya in particular championed the project.
"With this being an action project, I was really impressed how Denaya led students and did that outreach to younger students, spreading the word and really trying to get people involved, excited and helping," Ms. Costa said. "It blew my mind at what she was capable of doing."
Under the tight timeline, completing the art installation was difficult, but students pulled together.
"There was a lot of problem solving, a lot of team work and role-modelling from my Grade 12 students," Ms. Costa said.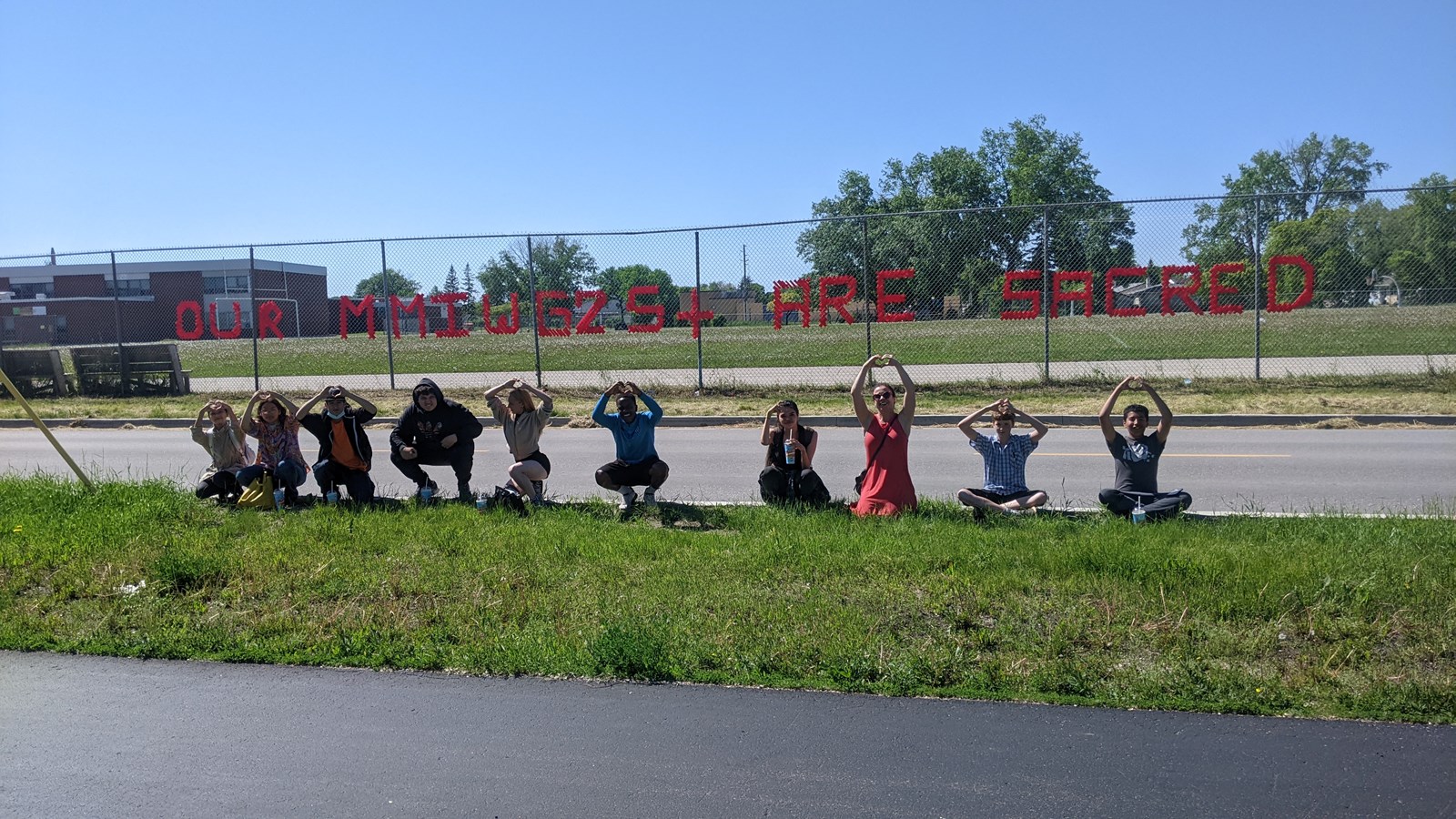 Grade 12 student Jean-Paul Murhabazi was among the group of students who worked in the June heat to ensure the sign was completed.
"In order to protect those who are still with us, everybody needs to know this is happening," said Jean-Paul, who came to Canada a year ago from the Democratic Republic of the Congo.
While the federal government announced an independent National Inquiry into Missing and Murdered Indigenous Women and Girls in 2015, many feel that not enough progress has been made following the national inquiry's final report. The RCMP, which provides policing to many Indigenous communities, still does not collect data specifically about violence against Indigenous people; and many incidents still go unreported due to ongoing systemic issues.
"I'd like to think that when people in the community see our sign, they will start discussing the issue, paying attention to the lack of progress made from the inquiry and the calls to justice, start listening to what has happened in our communities and discovering the truth about this issue," Ms. Costa said.