Community connects for Healthy Minds
May 10, 2022
News Story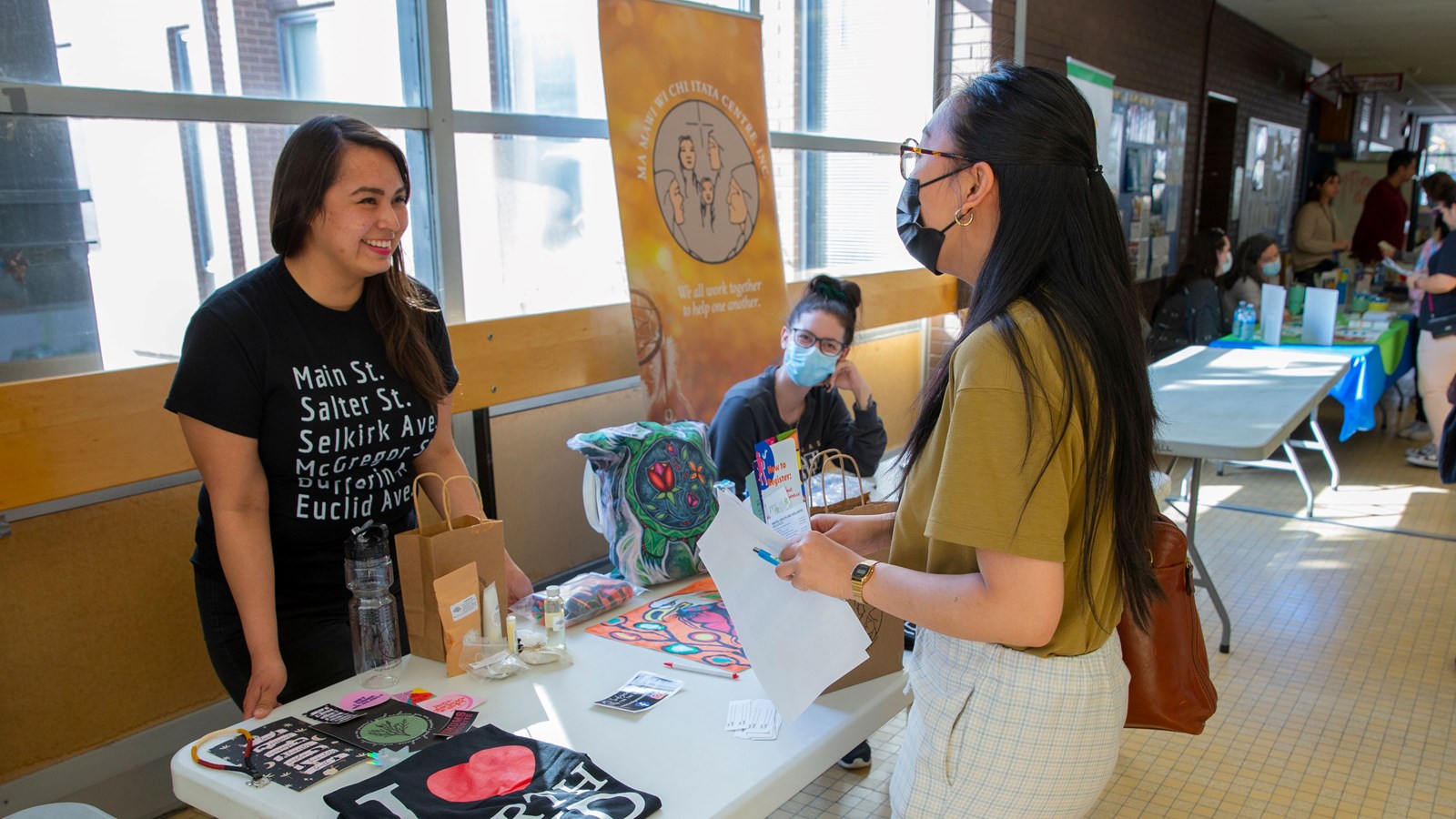 After a two-year absence due to the pandemic, families, mental health experts, service/resource providers and WSD staff were once again able to meet in person to explore mental health and wellness.
The 2022 Healthy Minds Free Resource Fair and Speakers' Panel took place at R.B. Russell Vocational High School on May 4; the event was held under the theme of Supporting the Mental Health of our Children, Youth and Community.
Approximately 20 different community agencies and organizations were present, including the Addictions Foundation of Manitoba, Resource Assistance for Youth (RaY), the Mood Disorders Association of Manitoba, the Canadian Mental Health Association and many more. The evening's panel discussion included School Psychologist Michelle Diawol discussing strategies to cope with anxiety; Child and Adolescent Psychiatrist Dr. Simon Trepel sharing information on screen time with social media and gaming; School Equity and Inclusion Coordinator Dene Guillas from the Rainbow Resource Centre on resources for 2SLGBTQ+ children and youth; and Knowledge Keeper and Elder Vern Dano presenting on mental health and wellness from an Indigenous perspective.
"Throughout the disconnection of the pandemic, families might have started to experience mental health issues and may need to reach out to one of these organizations for support for the first time. We want to be sure our families know where to get support," said Fiona England, WSD's Healthy Minds Specialist.
The pandemic presented a series of rapid changes and challenges that have had wide-ranging impacts on society and mental health. People have experienced extended periods of isolation and anxiousness over issues like personal and family health, economic instability and other concerns.
Positives and negatives of social/digital media
During his presentation, Dr. Trepel noted that for optimal mental wellness, children and teenaged brains need a sense of schedule, socializing with peers, time spent in nature/the outdoors and physical activity; these are all things that were not always readily available during the pandemic.
Social media and other digital media have helped fill the gap of sheltering-in-place and social distancing, and may provide entertainment, distraction and escape. While social media can be a useful tool that enables friends and marginalized groups to keep in touch, when used in excess it can remove the ability to be alone with our thoughts.
"We don't want to be alone with our thoughts anymore, and that's really where a lot of our maturity, growing up, and processing of difficult things happens. If we don't stop and process, we continue to ruminate, and things like trauma can actually perpetuate themselves," Dr. Trepel said.
Data from four years ago indicated that social media users were on social media an average of two hours and 15 minutes a day. While Covid has paused much of the data collection and research on social media usage, Dr. Trepel said he was concerned that average usage time will have increased.
"Covid kind of stopped a lot of the data we were getting about things. Research stopped, collaboration stopped…I'm pretty worried, quite frankly, about next year, when we are actually able to look at where the numbers are at now. I have a feeling they are going to be significantly higher than what they were," he said.
"I think we all really got 'screened' by Covid. We were forced into a world of more screens."
Dr. Trepel had some recommendations for managing screen time in a pandemic world.
Accept there has been more screen time for most families;
Focus on mental wellness—connections to people and activities that give belonging, purpose, hope and meaning;
Reducing screen time alone may be not be positive unless kids are connected to healthy options;
Encourage healthy screen time, i.e. talking with grandparents, learning the piano or other skills on YouTube;
Teach your kids about: digital citizenship skills, potential problems, how to self-regulate their digital media use, learn other ways to reduce stress that don't involve screens.
"The pandemic has definitely changed things. We might be going back to normal, but it's not the same…it's a newer normal," Dr. Trepel said. "We've learned over the course of the pandemic, we all need certain things to be optimally well. We need social interaction, that sense of community, lots of things that were stripped away from us."
Anxious times
In her presentation on anxiety, Ms. Diawol said we have collectively been experiencing fears and stress over major events such as the pandemic and the war in the Ukraine.
"We are seeing a huge fallout, in terms of mental health and wellness…things have gotten difficult to manage, but part of it is because of the threat and fear that we've been nursing for a couple of years," she said. "For the most part we have managed it, but now, we're being asked to flip the switch and go out there and not be fearful anymore."
After extended periods of isolation throughout the pandemic, once routine activities like going to a restaurant or having a face-to-face conversation can cause anxiousness. But Ms. Diawol stressed that anxiety is just part of the brain's natural responses and is something to be explored and understood, rather than avoided.
"I wanted to mention, and this is really critical, is that anxiety is normal. Each and every one of us in this room experiences it, and we need it. It keeps us safe, it keeps us protected. Being fearful of it can cause suffering, but we can learn to manage it. I've seen people, young children and adults, who were immobilized by anxiety, and they flourish by learning about it and understanding it."
Ms. Diawol shared an extensive handout of tips and strategies to cope with anxiety with parents in attendance.
Together again
Parent Dawn Gregory, who was in attendance for the fair and speakers' panel, said she thought the entire event was well done: "We're just coming out of a pandemic, everything is a little different now. So for me, this has been extremely helpful."
Ms. England said the evening was a valuable opportunity for the community to reconnect.
"At the resource fair we saw a lot of families, caregivers and agencies all interacting and sharing resources and supports. And then they were able to stay for our panel of experts and learn more information and normalize some of the feelings we've all had over the past couple of years," she said.
2022 marks the seventh year that WSD has held the Healthy Minds event, offering a wide-range of informative sessions, wellness activities and other resources for students, families and staff.
Jón Olafson, Service Director for Inclusion Support Services, said he was pleased to see the continued success of WSD's Healthy Minds strategy.
"It's particularly great, for the first time in two years, to be able to gather and celebrate the connection with some of our incredible community resources, and to see the parents, families and caregivers that are really invested in mental health for their children and the community."